"continuity is a defining feature"
Composition
The Estate comprises a broad range of let property providing housing, workspace and leisure opportunities for many local people.
HOUSING
A wide variety of dwellings exist within the village of Wentworth and surrounding settlements. Most are constructed of local sandstone and many have unique character making attractive homes. Accommodation ranges from compact one bedroom cottages to large farmhouses. Details of property currently available to rent can be found on the Property page.
BUSINESS
A diverse range of businesses operate on the Estate, from the village Post Office to a blacksmith, brewery and bespoke stained glass manufacturer. As well as a large garden centre, there are numerous furniture and antique shops, pubs, restaurants and joiners shops.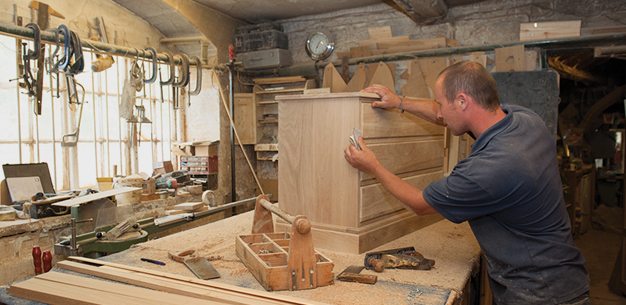 FARMING
With around 40 equipped holdings and numerous bare land lettings, the Estate's agricultural land is an important resource to local farming families. Much of this land is used for growing cereals and raising livestock (dairy and beef cattle, pigs and sheep). There is also an increasing abundance of horses. Over 3,500 acres of moorland in the Peak District is farmed directly by the Estate with a flock of Swaledale ewes.
WOODLANDS
Much of the Estate's 1,200 acres of broadleaved and 300 acres of conifer woodland was originally planted for landscape and sporting purposes. Common hardwood species include Oak, Beech, Ash, Sycamore and local favourite, Sweet Chestnut. Plantations are all managed in a sustainable way through the English Woodland Grant Scheme, aiming to preserve amenity and produce quality timber for a wide variety of uses.
LEISURE & SPORTING
The Estate is a leisure resource for a wide range of activities including walking, cycling, horse riding, fishing, shooting and drag hunting. Containing specialist carp and various coarse fish, the serpentine lakes at Wentworth attract up to 500 season ticket holders each year (for further details refer to the Fishery page). As well as being grazed by sheep, the Estate's heather moorland on the western fringe of Sheffield is managed as a grouse moor.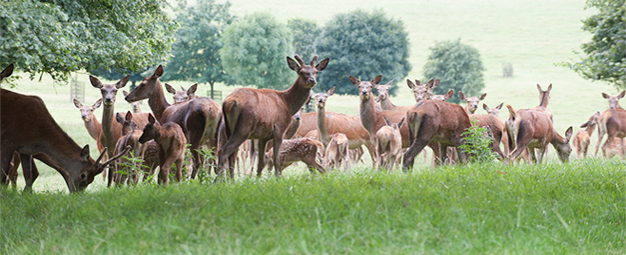 DEER PARK
A parkland enclosure in front of Wentworth Woodhouse contains a herd of wild red deer, grazing alongside cattle. Here, a public footpath provides good views of Wentworth Woodhouse and the various monuments or follies in the wider landscape.